Small rooms are great and popular for small families. Many modern living rooms need an edge of classic design that makes room elegant. Here, we give you decorating tips that empower you to design a spacious living area regardless of your square footage.
You will have to think over that things can be used for small space so choose compatible furniture, try modular furniture, use pair two small ottomans to form one long coffee table. When it's time to open up the room, move them to the side, or use them for extra seating.
Use two tables to give similar effect. Place those tables side by side, or better yet, try nesting tables. After all, one table can be stashed under another to create more room at a moment's notice.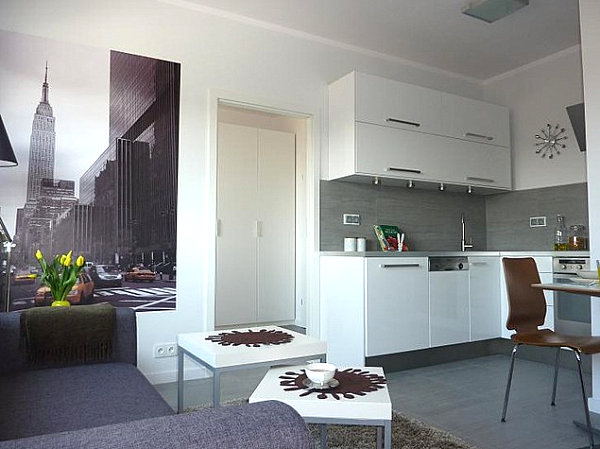 While modular furniture can help create more space, see-through furniture creates the illusion of space. The glass coffee tale below  has a "barely there" effect that helps open up the room.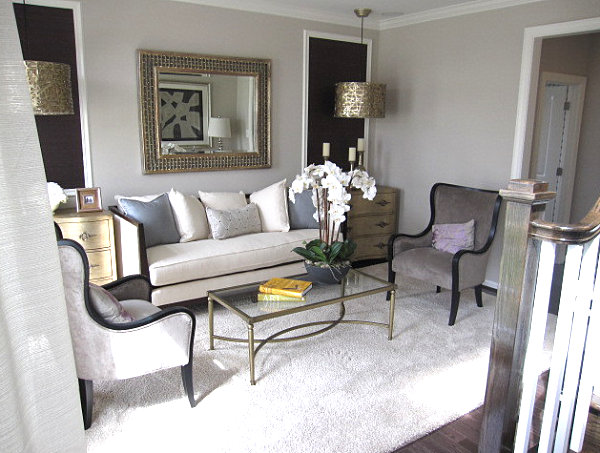 The compact coffee table below has a see-through top, as well as see-through legs. The result: a "clear as crystal" effect that makes the room seem larger.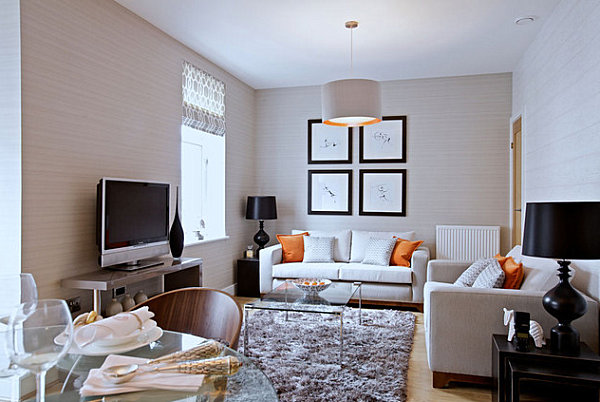 For an extra dose of clarity, add a couple of see-through chairs. The space below accommodates a variety of pieces, yet somehow it doesn't seem cramped. Glass and acrylic can do wonders, can't they?!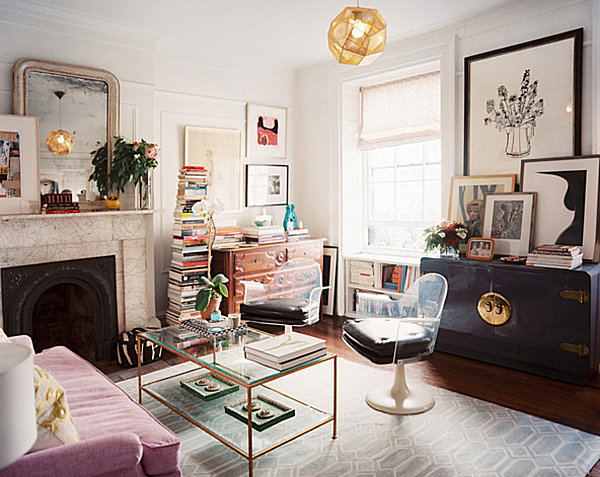 A chaise lounge has the power to open up a room. Why? It's backless, so its form doesn't visually fragment the space.
Another strategic furniture choice involves selecting pieces that truly fit the space. The compact sofa and coffee table below seem tailor made for the living room they inhabit.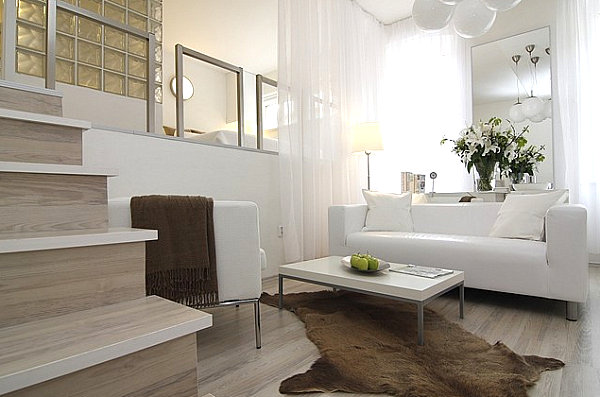 Below we see another space with carefully selected furnishings. Note the narrow builds of the sofa, chair and coffee table, which leave as much room as possible in the center of the living room.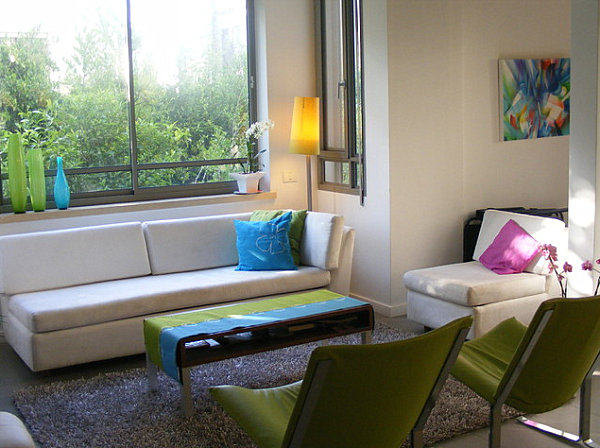 If you are able to paint the space you inhabit, use color and pattern to your advantage. One strategic paint option: choose light colors. They make a room seem larger!
Another space-enhancing pointer: match the furniture color to the wall paint. For example, when seating blends with the walls, the room visually opens up, a useful result for a spatially challenged living area. You can also use tapestry instead of wall paint both accessories gives rich look to room interior.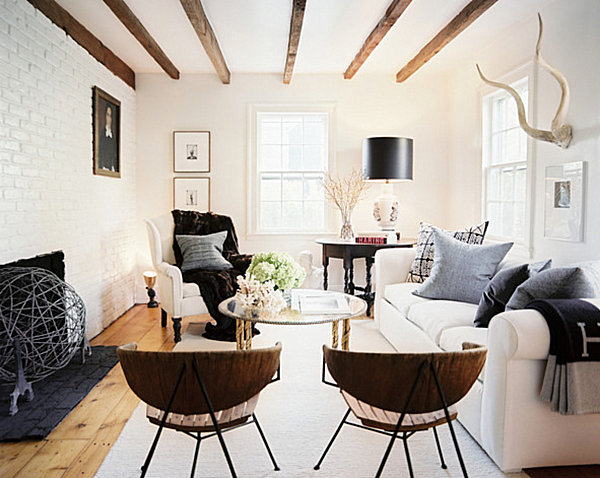 Did you know that horizontal stripes make a room seem larger? Similarly, vertical stripes make a room seem taller! You can't go wrong with classic black and white, as shown below: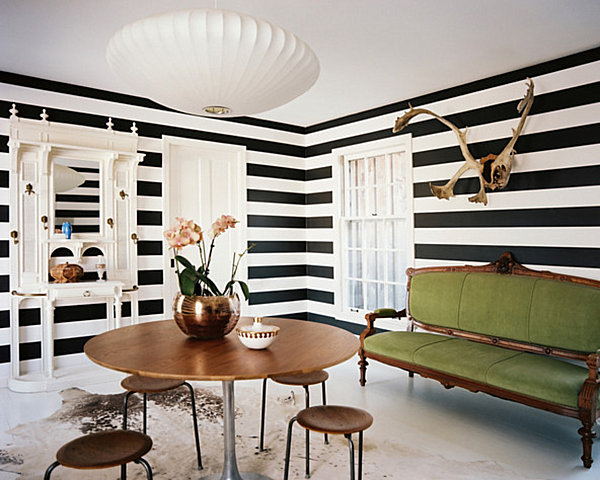 Selecting the right furniture and paint will only get you so far. Effectively arranging the space is equally important. An open feel is crucial. Survey the lines of the room. If there are visual or physical blocks that make the space difficult the navigate, address them. While it may not be possible to have large areas that are free of furniture, choosing narrow pieces can be a great option, especially if the furnishings are space-enhancing, such as the acrylic coffee tables below.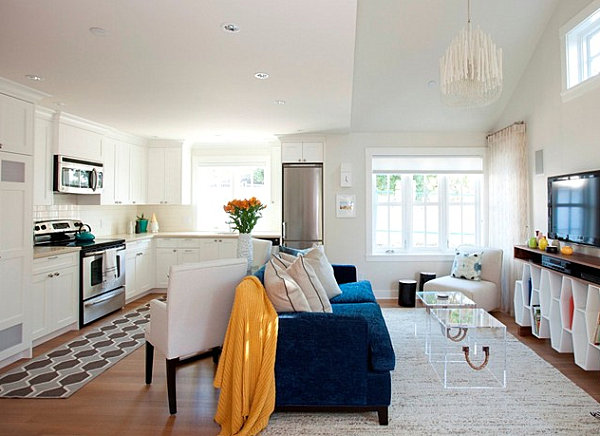 In the next space–a studio apartment–a narrow coffee table is placed close to the couch so there is plenty of open space between the table and the desk.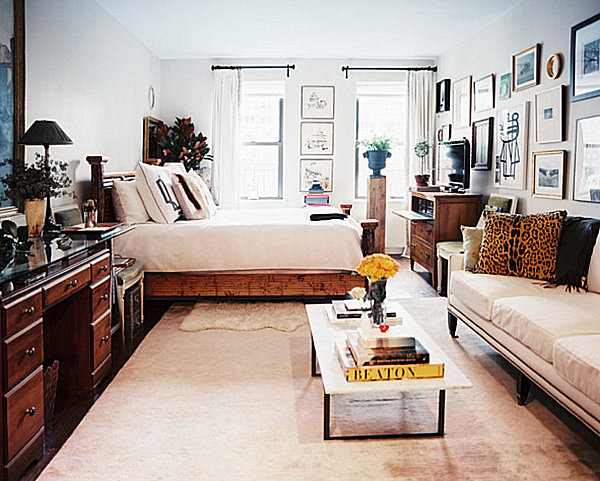 Note the open feel of the modern living room below. By angling the chaise lounge and locating the coffee table near the couch, there is still room for traversing the space. Not to mention, opening the back door extends the living room to the backyard, where an inviting pool awaits!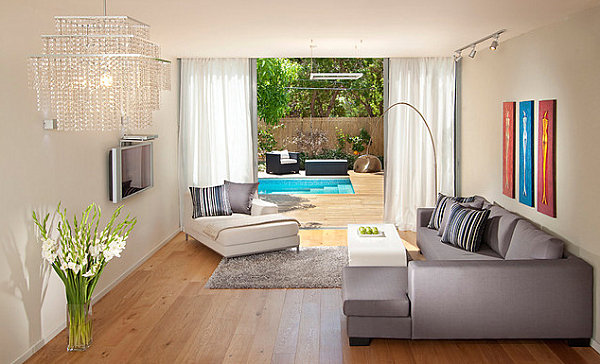 Arranging the room symmetrically creates a sense of order and balance, which results in a clean, uncluttered look.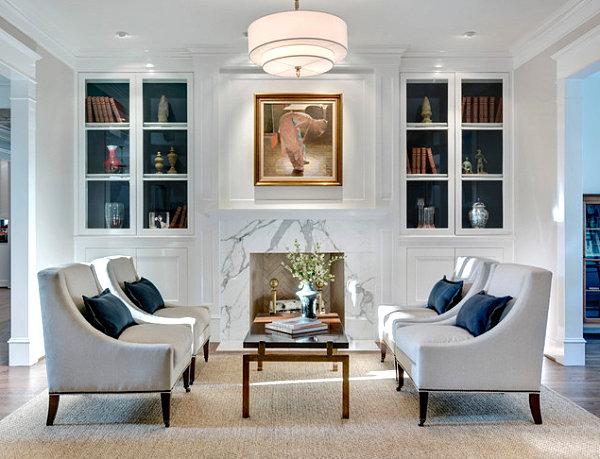 Many people with small spaces lament that they can't fit more decor into the mix. But if you carefully choose each piece, you may be surprised at the amount of detail you're able to include! A tufted sofa, striped draperies, a chandelier and geometric shelving make a big statement in the space below.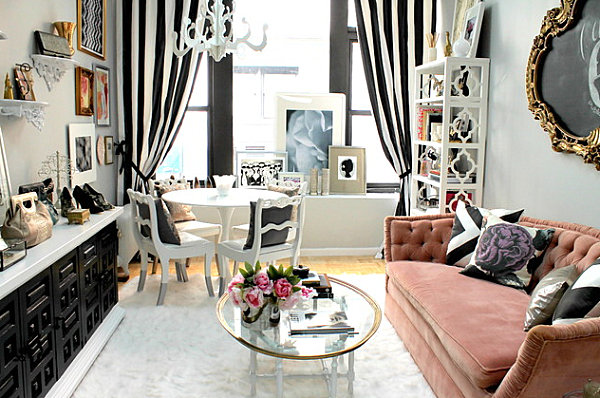 The room below is traditional, but a clever combination of colorful accents and artistic flourishes make the space truly interesting. A pink striped rug or chindi rugs, large botanical artwork and elephant side tables are three of the eye-catching selections that call attention to the decor itself, rather than the limited space.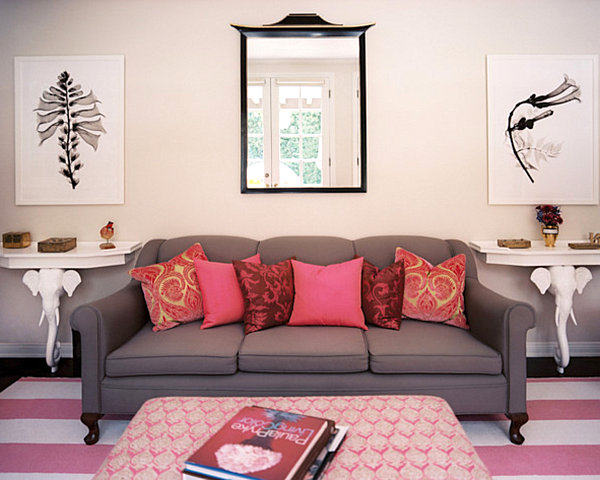 It's amazing how much seating can fit into a tight space! However, interesting accents such as patterned pillows, a bold throw and captivating artwork steal the show, jazzing up the crisp white sofas and bench. Again, the eye is drawn to the details rather than the close quarters.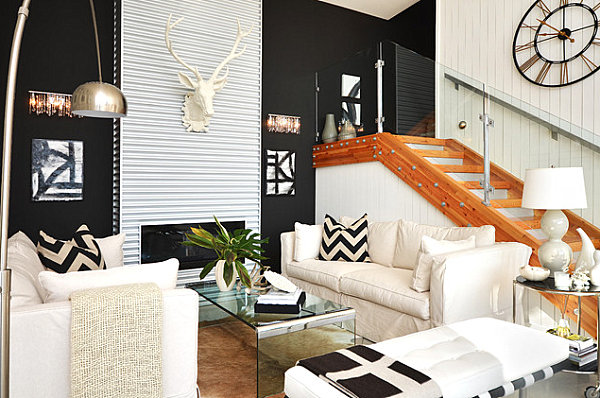 We end with a truly artistic living room. Each piece tells a story, yet sticking to a consistent color palette prevents the space from seeming cluttered.