Finding the right design for a small bedroom can be a challenge. But with smart planning, clever bedroom storage ideas and a the use of colour, even the most petite bedroom can feel spacious and clutter-free. Small bedrooms lack space, so being inventive with furniture arrangement and storage will ensure you utilize the space well. Decoration and function have to be balanced especially carefully in smaller spaces, so they do not become overwhelming. Here are some small bedroom interior design ideas to inspire you.
Make your bed the focal point.
A focal point is a feature of a room that instantly grabs your attention and is the object around which the rest of the room's design revolves. As the largest piece of furniture in the room, the bed is typically the focal point, especially if it's positioned directly opposite the door. A bold-patterned or bright-coloured bohemian duvet bedding set can make the bed stand out even more, while matching end tables with lamps make it appear wider. Table lamps frame the bed, giving it more presence, especially if they're large in scale.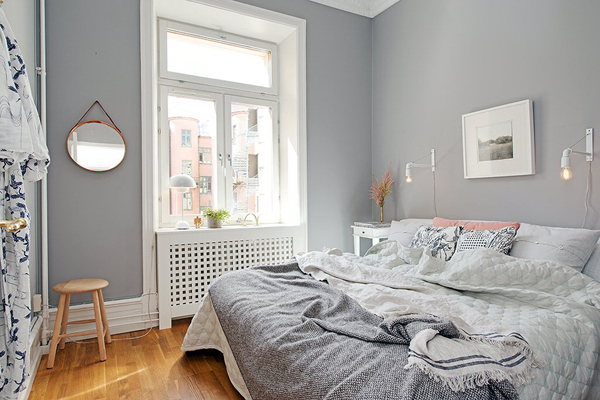 Add visual interest to your ceiling
In recent years, tray ceilings in bedrooms have become more popular.  They add a fifth dimension to the room that is often overlooked.  If you have the option of adding this into your bedroom, go ahead and see how much volume you will open up.  If you will remain with a standard ceiling, consider using a lighter color to fool the eye into the illusion of space.  The darker the ceiling, the more closed in the room will feel, and vice versa.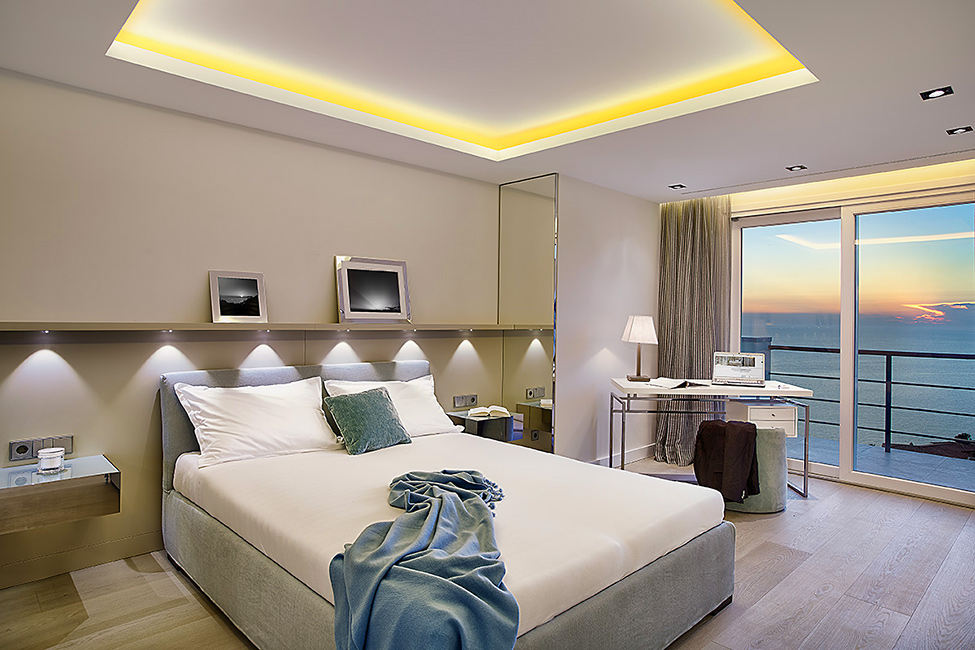 Nightstand
A nightstand that mounts on the wall is perfect for a small bedroom. The open space underneath the nightstand visually enlarges the space, and you can also stash things like shoes and books underneath. Mounting a lamp on the wall frees up space on top of the nightstand.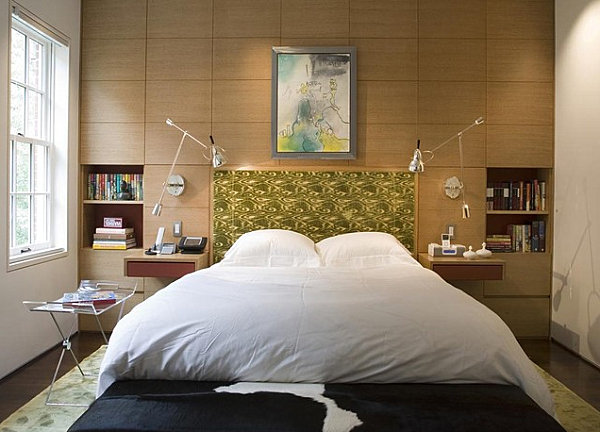 Go soft and light
Keeping your color choices pale and neutral will help to open up your space and create a relaxing retreat. Please make sure to keep light colors on the walls and the floor. As darker colors make a room seem cozy, they also absorb light instead of reflecting it, making the space feel smaller. Opt for lighter colored flooring as well as wall colors to make the room feel airy.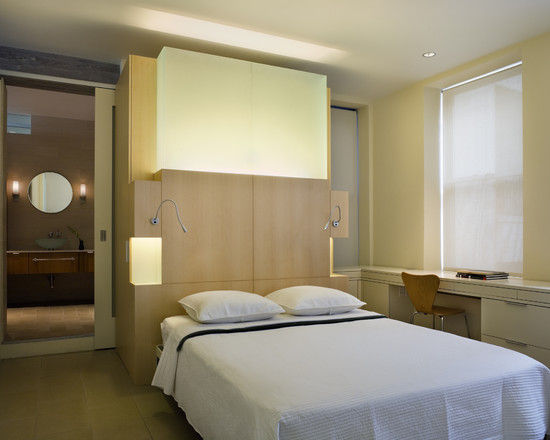 Contain the clutter
Piling knick-knacks, cosmetics, and books on every surface will surely make your space feel smaller. Remove large collections of personal belongings from dressers, night tables, and entertainment centers.  Choose a few of your favorite pieces of wall tapestry and a framed photo or two to display, then put everything else away. Invest in drawer dividers for your dresser or nightstand to keep jewelry and makeup from getting lost and jumbled up in boxes.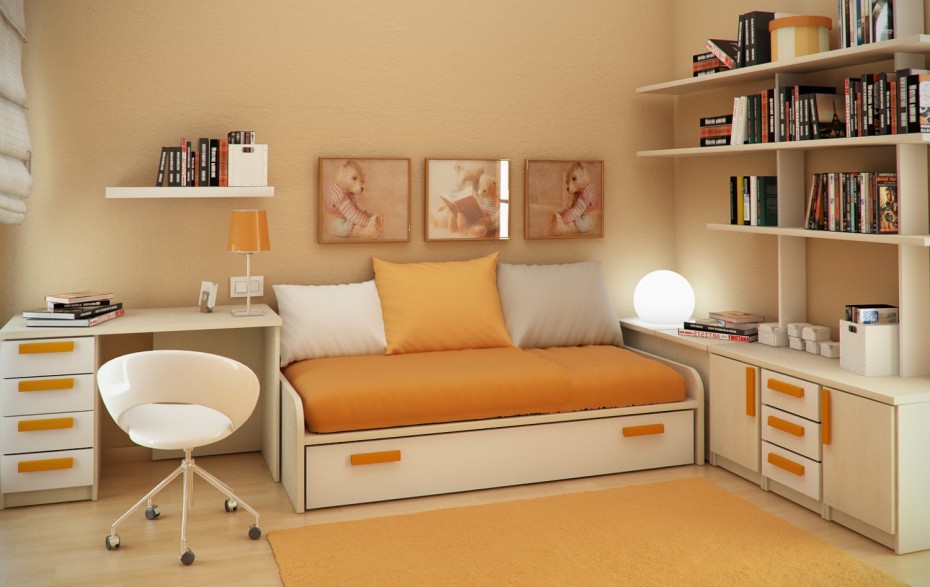 Add Pillows
If you love dark color then use two dark color throw pillows and add light colors to your wall that makes your bedroom interior more spacious. At least dark color pillow per side is a minimum for baseline coziness. And anything beyond that will increase your cozy factor significantly, especially if you use pillows with a bunch of different shapes and cover textures.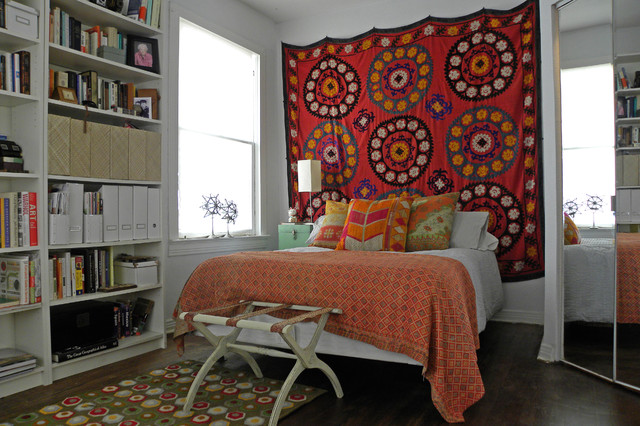 Lamp
Not only will a pendant lamp, lantern or chandelier free up floor space, but it can easily become the super-chic focal point of your small room.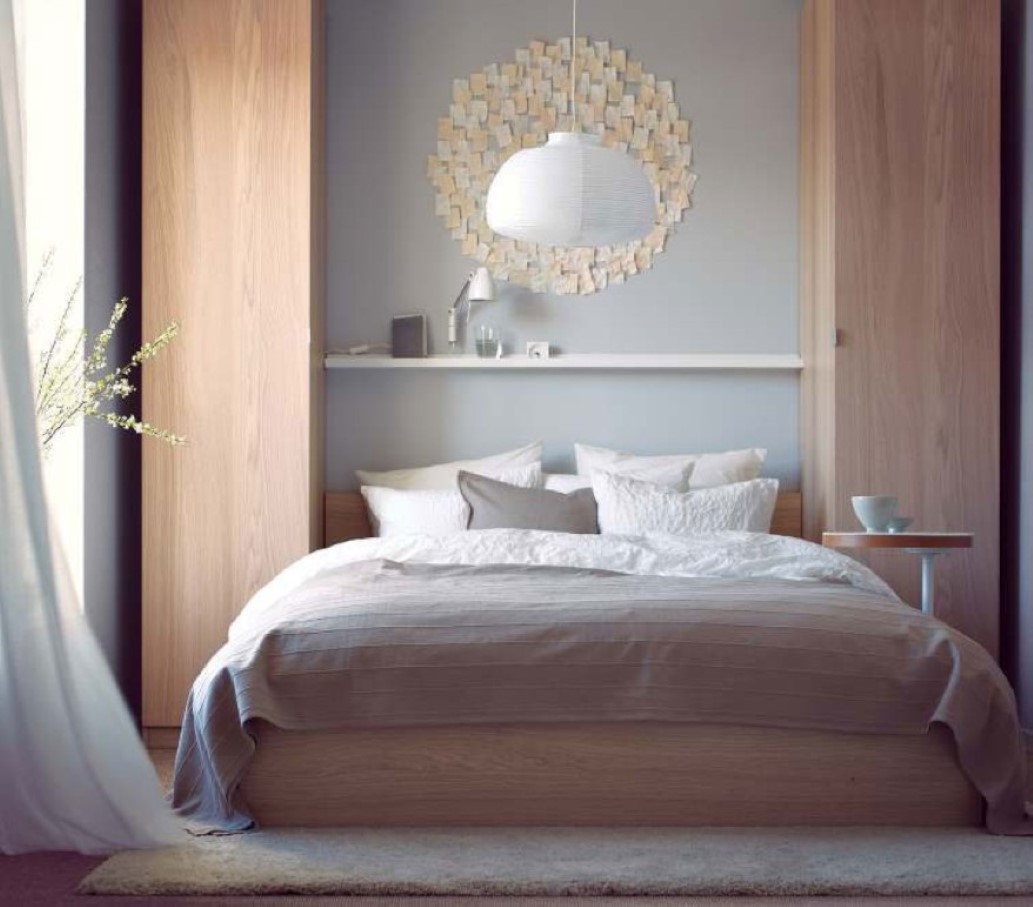 Mirror
Placing a mirror across from a window is the best way to reflect light and make the room feel larger. Another trick is to place a large window behind a chest or end table for a glamorous trompe-l'œil that makes it look like a whole other space is tucked behind it.