Have a limited budget? A bohemian touch can be given without spending too much money. The very nature of this eclectic style can take advantage of re-purposing and reclaiming items to use in your design for very little cost. Other furnishings can be purchased and used for a fraction of the cost it might take for a conventional home décor. Play up the free-spirited form of this design by turning your creativity and imagination loose.
Mix & Match Colors and Patterns
Colors play vital role for bohemian decor so don't be timid about splashing color throughout your rooms. You can mix these colors and there's no caution against clashing colors since many of the fabrics used in this style combine.
Tablecloths: A mandala print, ombre print tablecloths can be used to decorate a dining area.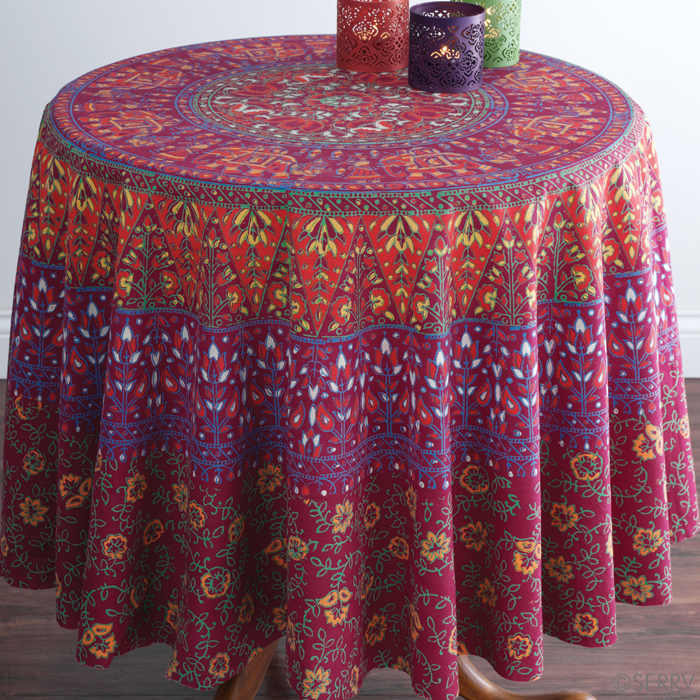 Pillows: start searching for cheap pillows or you can make it at home with few patches. Although, a lot of mixed color bohemian pillows are available so you can add them into your bedroom space. 

Stencils: Add pattern and colors to walls, fabrics and even stair treads with a Moroccan stencil. Decorate furniture with an inlay or African Kuba design for tables, cabinets, dressers, cabinet knobs, ceramic knobs and chairs.
Cheap Window Treatments
Avoid fancy curtains and tailored shades and instead try hanging simple cloth panels. You can even use tablecloths, strings of beads, and sheets; they can all be purchased for very little money. Remember to incorporate color and pattern as windows tend to be a strong focal point.
Bamboo:Use inexpensive bamboo roll-up shades.
Beaded curtains:Select either one color or multi-colored beaded curtains or you can use toran. 
Half -window curtains:A popular kitchen window curtain can be used to add colors and patterns to your design.
Colorful sheers:A great window treatment is to use three or more colored sheers together for a great splash of color and texture.
DIY curtain sewing:Select a bohemian style paisley fabric and sew your own curtains. Use simple rod pocket curtains for a cheap and quick solution for all your window needs.
Lace panels:Chose a lace curtain panel with a built-in valance for an elegant bohemian touch.
Embellishments and Trimmings Add Depth
The bohemian design engages the senses. Use fabrics that have a tactile appeal, such as silk, velvet, and brocade. Embellishments and trimmings on fabrics and accessories will add a heightened sense of design while giving greater depth to your design. These include:
Beads and crystals: Purchase strings of beads or string your own strands to hang like garlands over windows, dangle from lampshades, or use as pulls for overhead ceiling fans.
Lampshades: Use existing lampshades and hot glue beaded trim along bottom. Drape a colorful fabric, like a sheer scarf over the shade.
Apothecary jars: Fill apothecary jars with colored faux jewels or glass accent gems.
Costume jewelry and fabrics: Use costume jewelry as a décor accessory. Hang a bunch of necklaces, scarves, and saris on a decorative ladder leaned against the wall. Display bracelets in a bowl on the coffee table or dresser.
Tassels: Hang colorful tassels on knobs and pulls and cabinet hardware.
Creative Furniture Solutions
Vintage furniture and thrift store finds are the bohemian decorator's best friends. Try to find worn pieces that show a little wear and tear. Ornate woodwork is a plus. These items can then be painted with bold colors and patterns, or even left "as is" for an authentic bohemian look. Shop local flea markets, garage/attic sales and auction sites like eBay for the best deals on used and vintage furniture.
Revive furniture: Revive an old chest of drawers, nightstand or cabinet by painting and distressing. You may also glue strips of various wallpaper patterns onto drawer fronts then apply a sealant for a clever bohemian look.
Canopy beds:Add to the mystique with gauzy fabrics streaming from tall posts or draped over the bed canopy. Use bohemian duvet covers to give bohemian look to your bedroom.
Tall poster beds:Bunch gauzy or silk fabrics along the length of tall posts and tie with long ribbon streamers to the top of the posts.
More Cheap Decorating Ideas
When creating your own art creations, using objects, furniture and fabrics, you can use stencils, decoupage, and even glue faux jewels onto pieces.
Lamps and lighting:Paint old lamps for a fun look. Mix and match lamp styles and materials. Moroccan lanterns would also be a great option if you can find them at flea markets or thrift shops.
Paint frames:Repurpose old frames with vibrant spray paint colors. Decorate plain frames with resin motifs, then paint.
DIY art work:Paint your own canvas, frame pieces of fabric or wallpaper or find inexpensive art through websites like Etsy and eBay.
Add metallic objects:Include a metal lamp or bowl for a shiny reflective surface. Paint a side table with a metallic color.
Throw rugs:Use several throw rugs in colorful patterns for an authentic bohemian look. Braided rugs are a great inexpensive option.
DIY floorcloth: Skip the Chindi rugs and instead transform a cheap tablecloth into a floorcloth for hardwood, tile, or concrete floors. Blogger Laura Hayestone at Design Share provides instructions for this cheap and easy way to create one.
Bench:Re-purpose an old headboard into the back of a bench, paint and decorate or decoupage if desired.
Quilt, bedspread, or throw tablecloth:Repurpose a boho quilt, lightweight bedspread (bohemian chic bedding) or ethnic throw for a tablecloth and a boho duvet cover set for bedroom. Use more than one for a layered effect.
Candlesticks:Paint candlesticks of varying heights and then glue faux jewels and dangling beads to them for a fun look.
Small chest:Paint, stencil, and decorate a small wooden chest for a jewelry, spice cabinet, or other stash box.
Colored glass:Infuse color into your décor with three, five, or seven colored vases of different shapes in a grouping. Add silk flowers (optional).
How to Combine Ideas Into a Cohesive Look
Select a few of the above ideas to begin decorating your home in a bohemian design. As with any interior design project you want to create a color scheme, a theme, and a plan for how much of each you incorporate into your design.
Select Your Colors
Start with three main colors. You'll be adding lots of other colors, but these three will carry your design theme throughout your home from one room to the next to keep your design cohesive instead of a jumble of colors and items. Select one that will be used a little more than the other two colors, such as on fabrics or additional objects, to provide dominant color. Don't forget to add bohemian style bedding into your room.
Find a Theme
While bohemian is a mixture of all things, you still want to have a theme. This can be an emphasis on a metal or motif. For example, you may select silver to be a theme and choose silver colored objects to place throughout your home. You may decide that your motif will be birds and go with bird lamps, a few birds patterned fabrics, bird ceramic figurines, and a few other bird objects.
The key to a theme, be it a material or motif, is to keep it in balance by using it in odd numbers. Don't go overboard with hundreds of bird objects or all accessories silver in color and material.
Use bohemian bedding sets & decorate your bedroom interior.
Start With Floors and Walls
You need to decide just how much pattern and color you want to use. Will the walls and floors be mere backdrops for the items you use in your design or will they become focal points in your design? In other words, will the walls be a solid color, wallpapered, or stenciled? What about the floors? Are they hardwood, carpeted or tiled? If hardwood, will you use a distressed effect, paint the floors or add a stencil border?
Decide on Furniture Pieces and Treatments
Once you've decided on the treatment for the floors and walls, you want to focus on the main pieces of furniture. If you're painting, stenciling, and embellishing existing furniture, be sure to include your three main colors as well as adding other colors.
Window Treatment
Your choice for window treatment will be dictated by some of the textures, patterns and colors you've used in your wall, floor, and furniture choices. Don't be afraid to go with a patterned curtain since bohemian goes against much of the design grain about mixing patterns and colors. If you don't feel confident in going with another pattern, opt for several solid-colored sheers to keep the color palette alive.
Layer Your Design for Depth and Interest
You're now ready to start layering your room framework with various eclectic art, objects, paintings, and other accessories. Think of everything all ready in your room as canvases that need shadows of darker and lighter colors to add depth and dimension. Remember, this is bohemian style, so you can never have too much depth or too many objects.
Timeless Bohemian Style
If you focus on colors, patterns, and textures by layering these as often as you can, your bohemian style will be something you can enjoy for decades. mandala duvet covers, mandala bedding set Swap out accessories, but leave your walls, floors, and treatments, to keep changes inexpensive.